Inner Beauty-Are You Truly Beautiful?
I have a problem.
I worry about how I look. A lot. I have to be wearing makeup when I go out in public. Only very few people have seen me without makeup. While I am not the most fashion forward in my family and prefer to wear jeans and a hoodie, I still have to have very nice hair and perfect makeup to go out.
I am sure I am not the only one with this problem.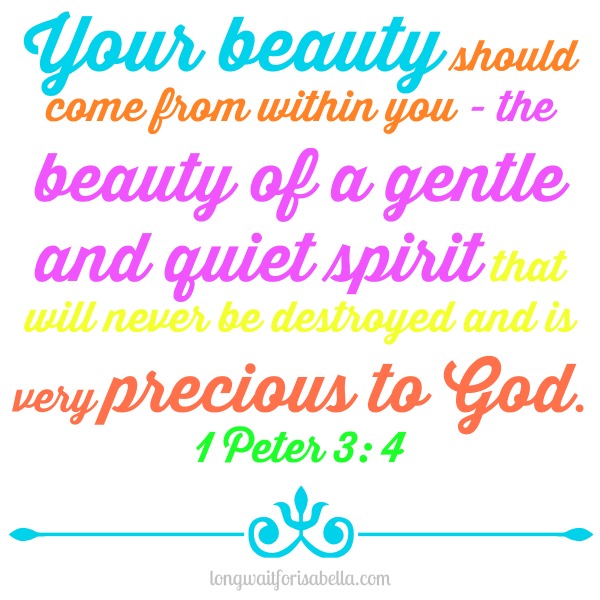 Many times I forget that true beauty is not on the outside-it is on the inside. While most people always look at your physical beauty first and sometimes judge you upon how attractive your are, this is shallow and not real. Everyone gets old and everyone loses beauty over time. Inner beauty shines, no matter how old you are.
Being inwardly beautiful is easier for some people than others. It is harder for me to remember (as you all know) and so I have to remind myself that I don't always need the makeup.
In the Bible, God never uses outer beauty to determine beauty. We need to think about pleasing God, not the world.
1 Samuel 16:7, KJV
7
But the
Lord
said unto Samuel, Look not on his countenance, or on the height of his stature; because I have refused him: for the
Lord
seeth not as man seeth; for man looketh on the outward appearance, but the
Lord
looketh on the heart.
However, just as a beautiful person can become ugly through neglect and mismanagement, a inwardly beautiful person can become neglected and ugly as well. We need to remember that Spiritual beauty should not be taken for granted and just thought out as something that stays beautiful forever. We need to keep in mind that a beautiful person in society can be ugly in the eyes of God, and a person unknown in the world to be glorious in Gods eyes.